"No man ever steps in the same river twice, for it is not the same river and he is not the same man." -Heraclitus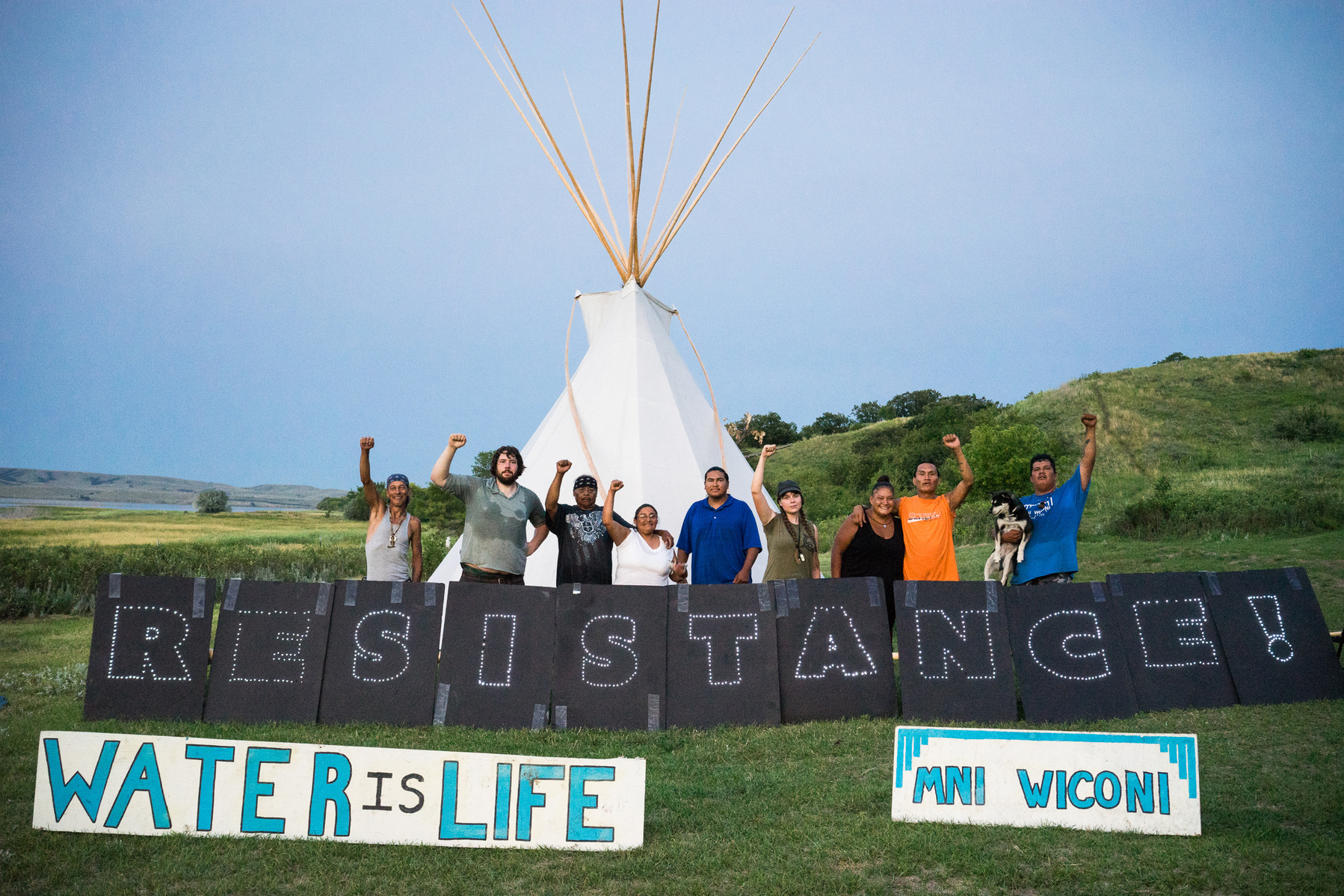 This was the Camp of the Sacred Stones I left on August 1st. Over half of the core crew isn't pictured because they weren't there at the time, but for the most part this was us. This resilient, sweaty-from-working crew of intrepid warriors. The camp always had more supporters working outside it than inside, but for months the population of the camp itself rarely exceeded 30.
I never in my wildest dreams predicted what I'd be returning to when I came back three weeks later. None of us did.
Standing Rock Reservation is now host to three collaborative resistance camps with well over a thousand people between them. If you passed over them in an airplane at night, the light from all the campfires would look like a small city.
I had tears in my eyes when I first arrived and saw the sea of tents and tipis. I remembered wondering during my three previous trips when the rest of the country would join the fight. Back then, Sacred Stone barely had enough people to do security, cook, clean, plan events, chop wood, haul water, and do all the other work of keeping the camp running.
And now, this. An epic gathering of people from all four directions, including nearly 200 indigenous nations, coming together to protect millions of Americans' drinking water and defend Native sovereignty.
The historical magnitude of what's happening at Standing Rock cannot be understated. Never before have this many First Nations peoples come together, and more are joining each day. Even members of tribes long embroiled in bitter feuds have set aside differences to live, organize, and pray together.
LaDonna Allard, the organizational head of Sacred Stone, told me, "Whatever happens here is going to change the world. I can really feel it." It's hard to disagree.
Her sentiment is echoed throughout the camps, which radiate an infectious feeling of hope as people envision–and to an extent, actually model–a world beyond corporate and state rule. Though money is still necessary to run the camps, almost none changes hands within them. If you're there, you're part of the community and will be taken care of as such.
Tribes and other communities have also stepped up to provide services that the government usually administers. Oceti Sakowin camp now has a school for the camp's children, and no one calls the cops when problems arise at the camps because they police themselves. When the state took away resources like clean drinking water, donations of it poured in by the truckload.
The camps stand as testament to the tremendous power of First Nations peoples and accomplices to organize and fight back on a massive scale. Regardless of who wins the court battles to halt pipeline construction, the movement that started here will not be contained. It's about so much more than DAPL now.
The pipeline was the catalyst and remains the focus of this struggle, but the most important work is at its roots. First Nations people are standing up to protect the sovereignty and land that has been rightfully theirs since time immemorial, which US government has since its inception tried to conquer with every tool at its disposal. They're calling the government's complicity in the poisoning of their water, the seizure of their lands, and the destruction of their sacred sites for what it is: genocide. And they're speaking with the collective voice of nearly 200 indigenous nations, backed by powerful allies like presidential candidate Jill Stein, Lawrence O'Donnell, and Susan Sarandon.
The movement is also a clear reminder that unchecked corporate interests trade off with the public interest, and that we (everyone!) needs to fight for the latter like our lives depend on it, because they do. As water defender Wiyaka Eagleman said, "Watch how far these billionaires will go to protect their money. Whether you know it or not, this fight is for you too." Corporations like Enbridge have only one value and one motivation: profit. It matters more to them than whether millions of Americans will be able to drink water and grow crops that aren't poisoned, matters more than the law or morality or human survival or any other metric actual people use to make decisions.
This fight is showing people not only that that corporate rule is a direct threat to everything we hold dear, but that it's possible for ordinary people to fight back.
I've been away for a week and a half now. With all that's happened since I left (see Unicorn Riot and Democracy Now for the latest), it's felt much longer than that. Every day I hear more news of water defenders courageously standing up for the earth and future generations, and corporations fearfully clinging to power the world is realizing they ought not have.
I want to be there and not to leave until the fight is over, however long that may take. Speaking only for myself, being anywhere else right now feels wrong. September 13th, the date I go back, can't come fast enough.
As with all four previous trips, the camp I'll be arriving at will be different from the one I left. It's a reflection of the broader environmental justice movement, which along with the camp is rooted in long histories of indigenous tradition and struggle, yet is constantly evolving in response to changing circumstances. A reflection, too, of the ever-flowing Missouri.
A quote from Herman Hesse's Siddhartha stands out to me. "But out of all secrets of the river, he today only saw one, this one touched his soul. He saw: this water ran and ran, incessantly it ran, and was nevertheless always there, was always at all times the same and yet new in every moment!"
Just like this movement. Just like us. If I find hope in anything, it's that.