On the road with the Rolling Resistance
On 22 February 2017, the day the #noDAPL resistance camps at Standing Rock were forcibly evicted, about 25 indigenous youth piled into a repurposed school bus and hit the road. The group now calls themselves the Rolling Resistance, but they left Standing Rock without a name or even an itinerary, just an urgent sense that the struggle for Native self-determination and environmental protection was far from over.
"We recognised something special in all of [us]. We knew we had the tools to raise more awareness and keep the sacred fire going," explains Stuart "Stu" Perkins, an Ojibwe water protector, referring to the flame that burned at the centre of the Oceti Sakowin camp where the group first met.
I'm meeting Stu at Pow Wow Grounds, a native-owned café and gallery in Minneapolis, Minnesota, during one of the Rolling Resistance's rare moments of downtime. It's the first time he's returned to his hometown of Minneapolis for more than a few days since he quit his job at a cell phone store and lost his housing to join the Standing Rock encampment last fall.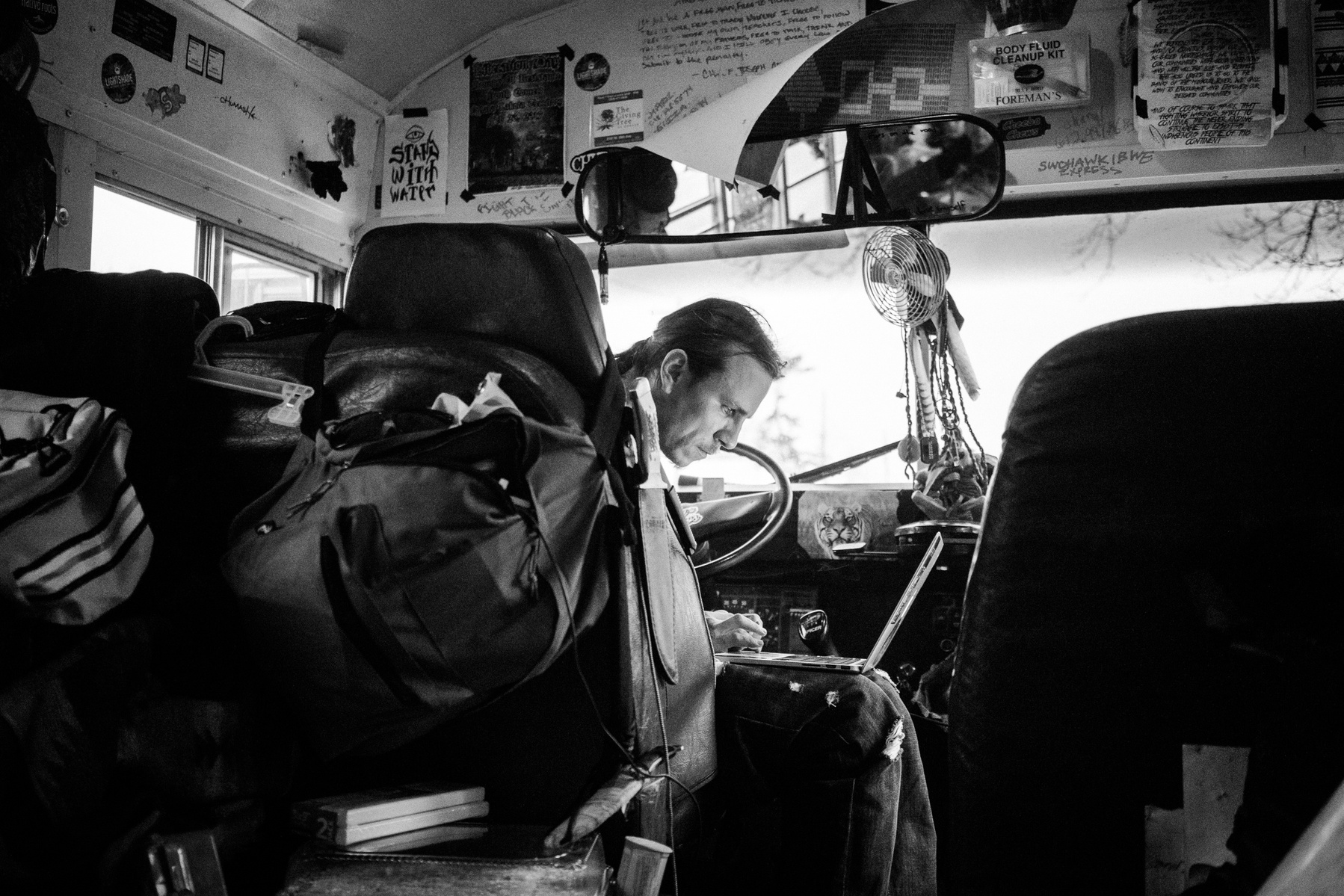 Like many others on the bus, Stu has no intention of settling back down anytime soon – least of all now that oil has begun to flow through the pipeline at the heart of the Standing Rock fight. As of 1 June the Dakota Access Pipeline (DAPL), which stretches from North Dakota to Illinois, is fully operational, pumping 520,000 barrels of crude oil under the Missouri River each day.
The pipeline has already sprung three leaks Since President Trump's January order to fast-track its completion without a standard environmental impact statement, substantiating water protectors' insistence that the pipeline will inevitably break, damaging ecosystems and contaminating the drinking water that millions of people rely upon.
For Stu and the other members of the Rolling Resistance, the DAPL is just another example of the centuries-long desecration and theft of Native land and resources. "[Standing Rock wasn't] the first time and it's not gonna be the last," insists Brandyy-Lee Maxine, a 34 year-old Nakota water protector and mother of three who has been with the Rolling Resistance since day one. "I was born into this fight, and my daughter was born into it, and her daughter is going to be born into it."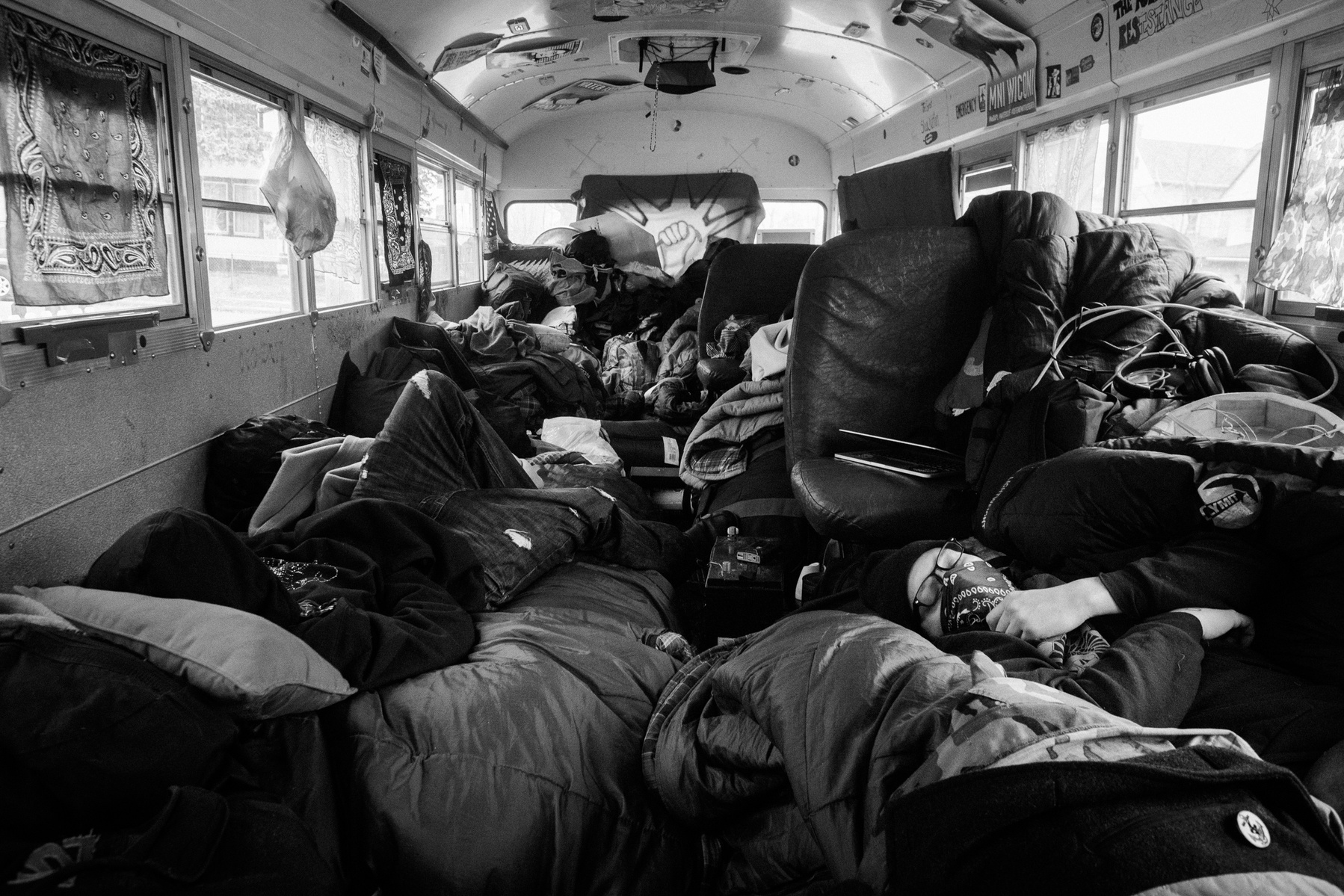 Through their travels, the group hopes to raise awareness about the connections between Standing Rock and the ongoing exploitation of indigenous peoples, and to aid other groups fighting that exploitation. Their mission has sent them on a whirlwind tour across Turtle Island (a First Nations term for North America), during which they've spoken to school groups of all ages, sharing lessons from Standing Rock while raising barely enough money to make it to their next location.
Brandyy and I sit on the floor of the Rolling Resistance bus as she tells me about their journey. It's parked along a busy Minneapolis street and even from inside it, I can see pedestrians slow down to stare as they pass. The attention is unsurprising because, as Brandyy says, "the bus is a huge statement in itself."
The Rolling Resistance bus is hard to miss. Colourful spray-painted words "Water is life" and "mni wiconi" – rallying cries from the #noDAPL fight – cover the sides of what still appears to be a school bus. Bandanas its inhabitants wore on the frontlines at Standing Rock now serve as makeshift curtains, affording them scarce privacy as they make their way across the length and breadth of the United States.
"No matter where we go, people take pictures," says Brandyy with an hint of discomfort. "But that's okay because we're getting out there visually."
Behind her ambivalence about their lack of privacy is the enduring trauma of having been under aggressive 24-hour surveillance at Standing Rock, the extent of which was recently confirmed in law enforcement documents, private security reports, and emails published by The Intercept.
Along with the constant surveillance, Brandyy and her fellow nonviolent resisters were attacked with weapons such as the concussion grenade that nearly blew 21-year-old Sophia Wilansky's arm off, among other "less than lethal" munitions. Standing Rock was by all accounts a warzone, so it's no wonder many of its veterans – including those in the Rolling Resistance – still struggle with PTSD.
While some of the original 25 have left the bus to cope with their trauma at home, Brandyy and others who remain on baord see it as an integral part of their healing. "It was a little hard to adjust back into society, but we're doing it as a group," Brandyy explains.
A group, she adds, where every member has a lifetime of personal experience with the day-to-day trauma of colonial violence.
"When I was growing up, my auntie had to get water from the hose outside her neighbour's house," recalls Mercedes Terrance, a 19 year-old Mohawk woman who grew up in Onondaga territory. She's curled up on a pile of sleeping bags and blankets on the floor of the bus, sketching a painting she hopes to sell to help cover travel expenses.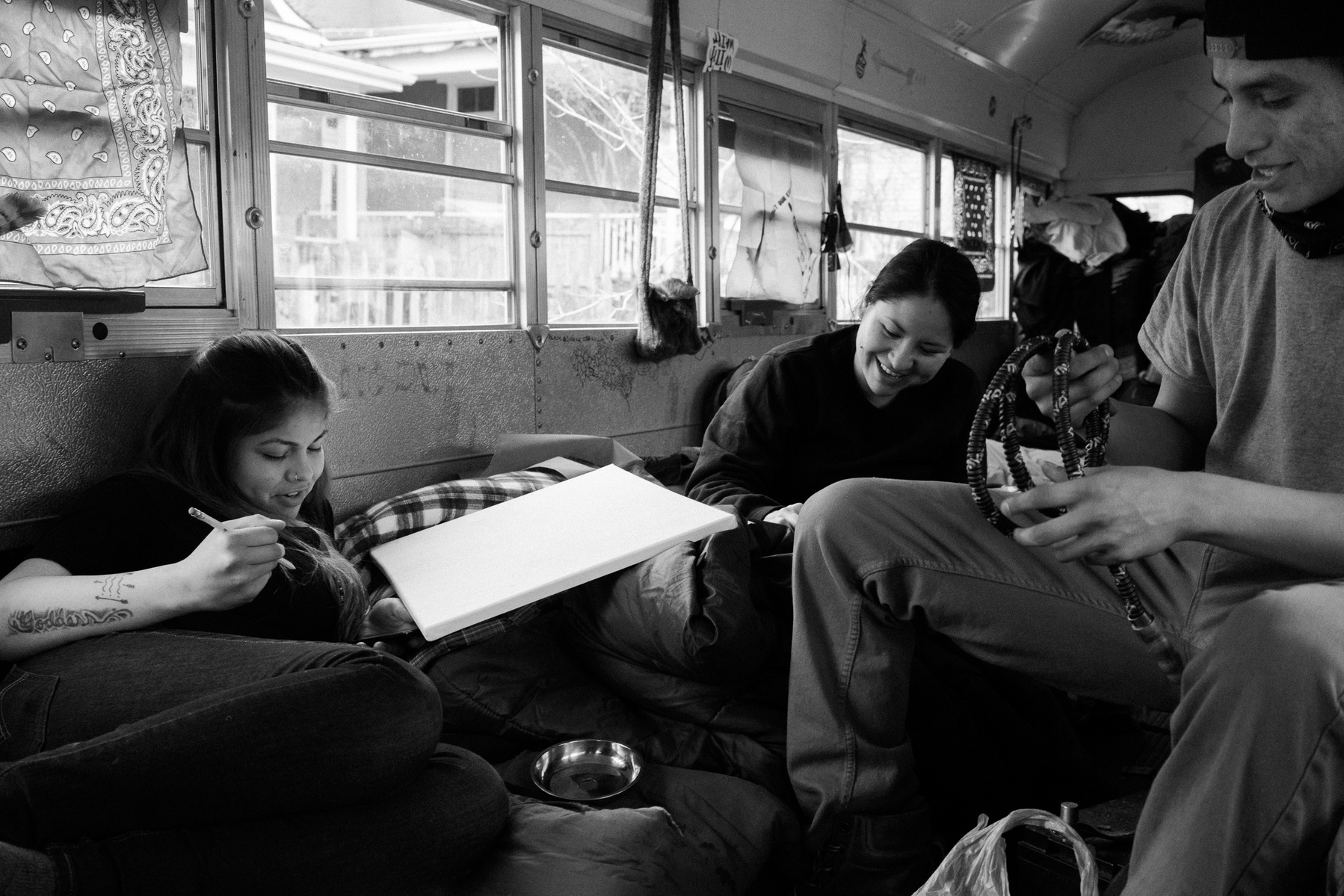 "I remember seeing my cousins having to heat up their water in a bowl and do bird baths. Their water wasn't stable to shower in because you could get sick from the mercury in it. You couldn't brush teeth in it, you couldn't drink the water, nothing."
"I've grown up knowing that water is life," she adds. "I've grown up to be grateful for it and do ceremonies for it."
Brandyy and her siblings also grew up bathing in mercury-contaminated water. Now, all three of her children, as well as all her nieces and nephews, suffer from chronic illnesses, which she suspects were caused by long-term exposure to the contamination.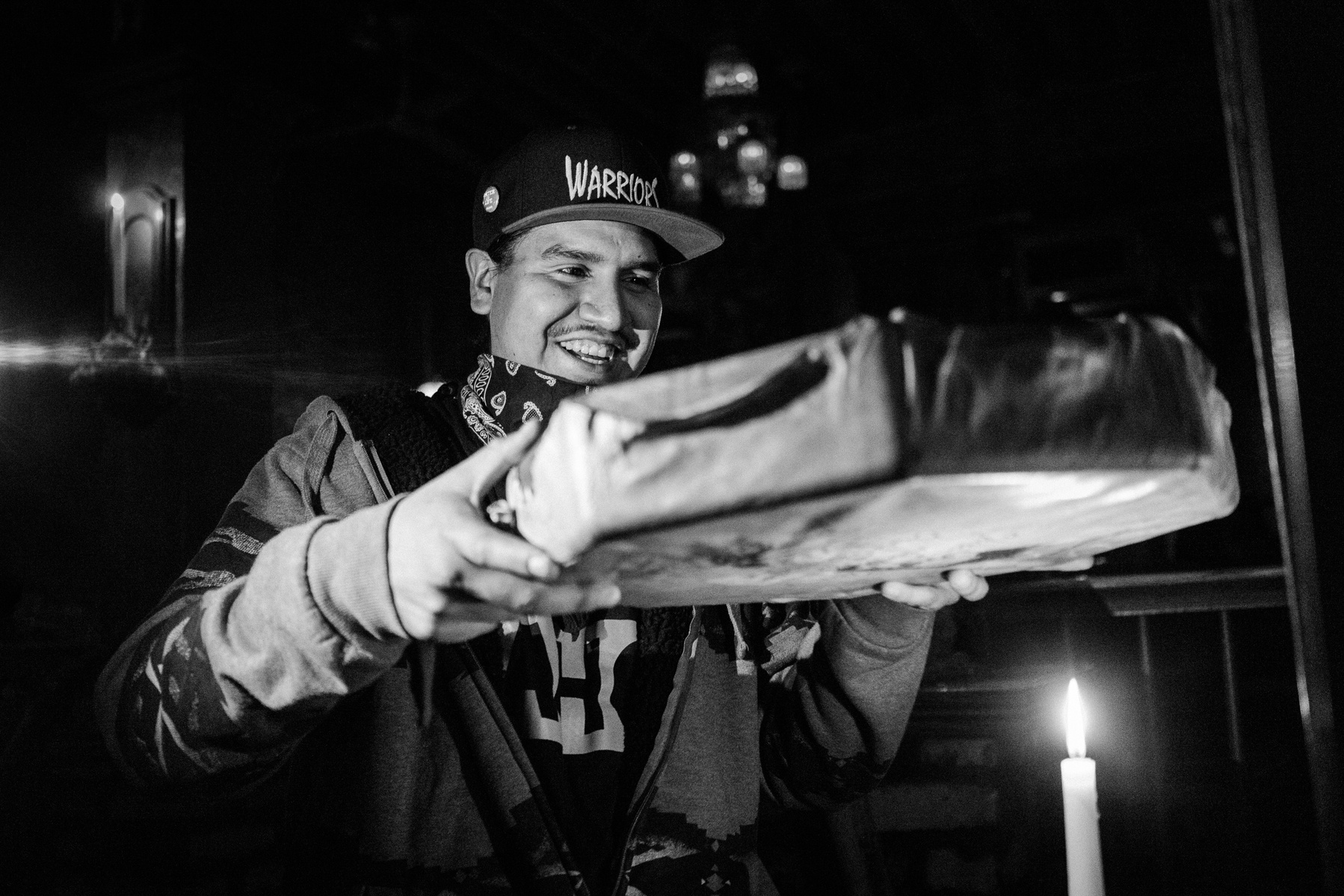 "We have so many tribes on the bus and we all come from different places in North America, but we've all faced the same issues," she explains. "So what does that tell you? It's everywhere. That's the real power of connecting. We've created this network that's growing and growing, and you can't stop us."
That network includes activists fighting other pipelines, such as the Native environmental group Honor the Earth. Honor is currently focused on stopping energy corporation Enbridge's proposed abandonment of its eroding Line 3 crude oil pipeline, which lies rotting in Anishinaabe Treaty territory, in favour of building a "replacement" that, in the event of a leak, could contaminate up to one fifth of the global fresh surface water.
At the heart of the Rolling Resistance's mission is the understanding that issues such as these, though rooted in particular geographies and communities, ultimately transcend them.
"When you get down to it," Brandyy tells me, "it's not just environmental issue. It's not just an indigenous issue. It's all these issues in one, and at its core it's colonialism and systems they created to keep us oppressed and to completely take over the land and the resources."
By uniting environmentalists and indigenous activists under a common banner, Standing Rock helped bring the interconnectedness of those issues into the public consciousness. It also spoke to the power of seemingly disparate coalitions coming together to fight for a common cause. The Rolling Resistance is now taking those lessons on the road, building bridges between activists working in seemingly separate realms and shining light on connections between seemingly separate issues.
They're engaged in the kind of coalition building that transcends identity politics, while still recognising that indigenous peoples are uniquely positioned in many of these struggles. As members of frontline communities – those hit "first and worst" by environmental destruction and corporate greed – the Native youth of the Rolling Resistance hold valuable insight into the issues that most gravely affect the continent's future. "[Your water] is probably already poisoned," Brandyy warns me. "There aren't enough reserves they can contaminate and take over anymore. At some point, it's going to have to go through towns and cities."
On the other hand, explains Wenhniseriio Sage Isaac, or "Sage," a 25-year-old Kanienkehaka man on the Rolling Resistance bus, the frontline of environmental destruction can be a strategic place from which to resist it. "Right now, what's stopping a lot of what they call 'progress' is these treaties with Native people. A lot of the good resources left are on Native territories, so they want that too. We stand in the way of complete and total corporate takeover of our land and resources."
The entire history of North American industrial civilisation lends chilling credibility to Sage's prediction. For centuries, the colonial governments of North America have fed industry's insatiable appetite for "progress" with stolen Native land and resources.
That trend is unlikely to shift on its own. A 2009 estimate by the Council of Energy Resource Tribes valued American tribal energy resources – coal, uranium, oil, and gas – at about $1.5 trillion, most of which remains untouched. As long as the powers that be continue to prioritise extractive industries' profitability over virtually all else, the continued pillage of Native lands seems nearly inevitable. Nearly inevitable, perhaps, but not unstoppable.
As Sage points out, changing the course of history will require people to unite across cultures in the name of the collective good, which is exactly what the Rolling Resistance is working to accomplish. "[Uniting people] takes understanding and awareness. That's the purpose of what we do, and why we're traveling and starving every day and barely making it from location to location."
"We have this ability right now to wake up the world in a real way," Brandyy adds. "I've seen so many blinders come down. After you've seen it and after you know, you can't put those back up."

You can follow The Rolling Resistance's travels on their Facebook page.